New Details Released about Star Wars Galaxy's Edge interactive elements
Details are slowly starting to come out more and more about Star Wars Galaxy's Edge as it draws closer to opening later this year at Disneyland and Walt Disney World. In a new piece by Barron's, who got to recently tour Star Wars Galaxy's Edge, we get some new details about the interactive experiences guests will experience once side Galaxy's Edge.
Oga's Cantina will be a location where guests can enjoy both alcoholic and non-alcoholic beverages, and according to Barron's, the venue features "a handful of booths with seating around the outer edge of the restaurant; no decision has been made yet on whether or how these can be reserved. An intricate tangle of tubes and vessels behind the bar might make some drinks appear to flow from the ceiling. We heard a mention of a Fuzzy Tauntaun, named for the furry snow lizards ridden in Empire Strikes Back, although it's unclear if that's a hypothetical drink or a planned one, and the menu is still being decided."
Blue Milk? Yup.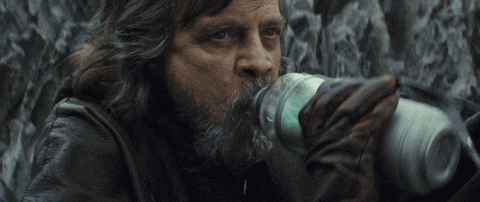 Not to be confused with the beverage Luke enjoys in that awkward scene in The Last Jedi, but rather hopefully a delicious beverage will be served inside Star Wars Galaxy's Edge. According to Barron's the beverage will "be a nondairy drink. It's unclear whether it will be sold in Oga's or in the outdoor marketplace, or both. It's possible it will be sold by or near a bantha farmer, suggesting the marketplace."
Bartering with Dok-Ondar
Star Wars Galaxy's Edge will not feature your typical Disney gift shops, rather it will feature an entire area called "Merchant Row." In this area, guests will encounter a variety of merchants, including an interactive one featuring Dok-Ondar, a character you first see in Solo: A Star Wars Story. 
"There will be another shop presided over by Dok-Ondar, a collector who is briefly mentioned in Solo. This character, likely animatronic, will be set apart in a booth from the rest of the staff, not unlike the dispatcher Louie De Palma in the old ABC sitcom Taxi. Cast members might interact with Dok-Ondar, asking him what he's willing to let certain items go for. Elsewhere, there will be an outdoor market resembling a bazaar. A pod-racing engine, perhaps at the market, will be used to roast meat."
The Barron's piece also gives some new details on the two massive attractions coming to Star Wars Galaxy's Edge as well. Check out the full article here.
And as always, be sure to follow us on Twitter and Facebook for the latest news, photos and more from Star Wars Galaxy's Edge!